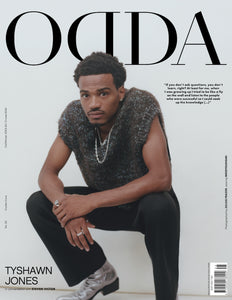 ODDA MAGAZINE
ODDA 25 Tyshawn Jones
Regular price
$22.00
$0.00
Unit price
per
Tax included.
Shipping
calculated at checkout.
When September rolls around, right before we start the new issue, many questions arise for the team and I. For September 2023, we want to speak about "us." And, when I say us, I am talking about human beings and all of the little things that make us smile, bring joy and lead to discovery. All of the nuances that allow us a sense of moving towards our dreams and expectations; perhaps even expectations that we have created or imagined for our future selves. 

The September issue of ODDA is a celebration of the things that give us pleasure, not exactly the physical but whatever provides us comfort or reminds us of forgotten memories. September is a restart, not just for us, but for fashion on a global scale. I decided to name this number VOULEZ-VOUS after the famed song of ABBA. "Why?" You may ask. Hmm… I think the complexity of the answer is great but, on the surface, I find myself a free man, whose dreams and passions are visible every day. And, there is always ABBA. In all of my happy moments, my memories, my laughs and the people I love and have loved. 

ODDA 25 shows, for many, what grabbing a coffee and a read in the early morning means: the possibility to travel and explore other cultures, meeting people that teach you and bring nourishment to your life, the food and global tastes, as well as the cherished memories of childhood that keep the innocence within us alive. The pleasures of intimacy shared with ourselves, with that person you finally found or the hope that you have for somebody in accomplishing their goals. 
This year I had the privilege of visiting Singapore for the first time, as well as returning to Tokyo. I cannot begin to express with words my inner-feelings, being able to return to these incredible countries and cities after I once thought that travel would not return after the 2020 black-out. 

Also in the UK, we spent a day at the Serpentine Galleries in London with Mr. Hans Ulrich Obrist before jumping to Puerto Rico with artist José Lerma and then to NY to discover more of Richie Shazam–an icon of our era.

In this issue, you will discover Haute Couture and High Jewelry must-haves, the celebration of body, self-comfort and personal needs with stories such as My House, My Rules, My Pleasure as well as the Cruise 2024 of Chanel through the eyes of three powerful women: model Akiima, actor Rain Spencer and poet Blair Maya Quinones. 

There is much more to discover, from Wes Gordon to Zebedee Talent agency to Guy Vadas. If I don't stop now, I will never end this letter and you will be too bored to read my words the next time so… it is better for you to see for yourself what is waiting!
---
Share this Product
---