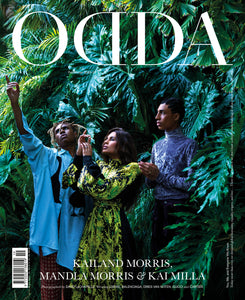 ODDA MAGAZINE
ODDA 19 Kailand Morris, Mandla Morris & Kai Milla
Regular price
$28.99
$0.00
Unit price
per
Tax included.
Shipping
calculated at checkout.
"You, Me, And Everyone We Know" Fall/Winter 2020-21 issue is about the power of listening and learning, teaching others while simultaneously focusing on becoming more humble and real. It is what humanity should be practicing in these final few months of 2020 and in the years to come.
Since February, life as we once knew it was put on hold. Everyone's plans, dreams, and hopes for the future were sidelined. We were collectively forced to take a beat, reflect, and gain a bit of perspective. We all pivoted and began to think outside the box for ways to not only move forward in a more honest and open manner but also give back to our local communities and to those in need across the globe. ODDA reached out to those we cherish, Massimo Vitali, Chiffon Thomas, Kevin Yagher, Martine Rose, Carmen Busquets, David de Rothschild, Gary Lee Boas, Marco Ribeiro, Zachary Quinto, Christopher John Rogers, Eliza Hittman, Sarah Andelman, Asante Blackk and so many more to help us make this the best issue to date.
While bringing ODDA 19 to life, we had the pleasure of meeting people we admire, not just for what they do, but what they say and who they are. For example, Oscar-nominated actor Timothée Chalamet, one of Hollywood's brightest young stars, with an open-hearted world view, and overall generosity of spirit in conversation with the legendary musician and ambassador of peace, Stevie Wonder together with his son Kailand Morris.
It is also essential to support new talents and new creatives. That is why for one of our covers, we paired supermodel Jourdan Dunn with Malick Bodian. Not only is Bodian one of the leading male models working today, he is also a talented photographer who is building a name for himself for his ability to capture true depth of emotion through his lens.
We also wanted to embrace the Queer community and underline the rights of LGTBQIA+ individuals with Josh O'Connor, one of the most brilliant actors in the United Kingdom together with the rising star Harris Dickinson, both playing characters helping build understanding and awareness on a larger scale as well as how the roles also helped them gain personal insights.
In this issue we are keeping the conversation going about how we must fight for our planet and continue to push for women in power positions. Women like Jessica Meir, one of the astronauts and scientists who are making scientific advances for our future that could have lasting benefits for our world and our humanity or Christian Dior's creative director, Maria Grazia Chiuri in a conversation with singer and songwriter Alicia Keys, speaking about the future and how real change needs to happen, especially for women (in all shades, sizes, and ages). That women need to be taking up more of the decision making leadership roles across all industries and the world.
"You, Me, and Everyone We Know" [ODDA 19] is an issue for everyone who wants to enjoy life, equality, respect, love, learn, listen, make changes, and never stop dreaming.
*For circumstances out our control (Brexit and Covid-19), we experiment delay in our shipments.
---
Share this Product
---