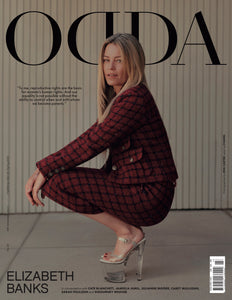 ODDA MAGAZINE
ODDA 23 Elizabeth Banks
Regular price
$22.00
$0.00
Unit price
per
Tax included.
Shipping
calculated at checkout.
ODDA 23 wants to go deep to really understand how important it is to always keep your energy grounded and honestly focus on the real values of life and believing in yourself. The last 10 years — especially the last 5 — which are the focus of this new issue, we  experienced a tremendous change in our society, from food habits, to communication, to educational values, as well as the way we understand fashion, consumers, products, and beauty. Everything is back to basics, from the necessity of keeping things authentic, passing by the silhouettes, to never leaving behind the "real" beauty our past selves used to experience. It was based on not plasticized or extra processed aesthetic but instead honest, innocent, and explorative beauty.

For this new issue we have seven covers, each of them dedicated to a different character who, at times, also represents an important theme. Elizabeth Banks talks about the importance of freedom for women, especially in the post Roe v. Wade American scenario, together with some of her dearest friends, Cate Blanchett, Jameela Jamil, Julianne Moore, Carey Mulligan, Sarah Paulson, and Sigourney Weaver. Between lightness and social commitment, this conversation is a clear invitation to react to injustice and also prejudices against women. The young Actress Milly Alcock, graces our second cover, just when "House of the Dragon," the spinoff of the infamous and mind-blowing successful series "Game of Thrones" is airing, smashing, once again, every record. Her gentleness in real life is perfectly balanced with the toughness of Rhaenyra Targaryen, her character in the series. Yeray Allgayer marks the comeback of a model for an ODDA cover since February 2020. He's in conversation with emerging Actor Kai Lewins, main character of the Netflix series "Surviving Summer;" the two talk about their common passion about surfing, but also their ambitions for the future, and the rising problem of climate change, seen by two young men. The intimacy of Singer Tamino is the main topic of his conversation, but more generally of his approach to music and life, as our forth cover story, fresh off the recording studio with his sophomore album. Model and Actress Dree Hemingway shows all her strength and cockiness, mixed with her contagious hilarity, talking about her passions, such as vintage cars and "Star Wars," and her desire of staying different. Easy going and gentle Malcolm McRae opens up about his life, his career, and aspirations together with his friend, Cara Delevingne, in a conversation that is spontaneous, but also deep, facing crucial themes like sexual assault. To close this round of talents, one of the biggest artists of our times, Mr. Gaetano Pesce talks with his long-time friend, Murray Moss, about what it means to be an artist today, the importance of art and its messages over the years, and also reveals some tender moments of real friendship.

ODDA 23 10 Years Vol.2 is also a useful tool to understand that we haven't learned that much, despite the incredible difficulties we have lived and we are still living in these last years. We acknowledge that this is a really tough period, but at the same time is a year of adaptation and being true to yourself and what you need, listening to your inner emotions. 
Mental health is still a "vague" topic to be addressed, that many suffer from and people still ignore. The return to a saturated schedule and the "FOMO" of many events and opportunities around the world has jumped on the back of the young generations, providing an emotional stress and anxiety about never losing, falling behind, and being better than the others. But being aware of all of this can help us going forward and maybe understanding how to behave and deal with these always more recurring aspects of our lives. 

More and more the new generations want to learn and they are teaching themselves to educate their taste and their view, facing the future but never leaving behind the importance of, for instance, the power of paper. In fact, we have talked with the owners and managers of some of the most important book and magazines stores from all over the world to have their feedback on this, and so you can find conversations with Anneke from Athenaeum in Amsterdam to Taeil from Bellboy in Seoul to Mohammed from Casa Magazines in New York.

*For circumstances out our control (Brexit and Covid-19), we experiment delay in our shipments.
---
Share this Product
---